Are you searching for a compassionate and knowledgeable dentist? Patients in the Manchester, MO, area trust Dr. Buchheit and the dental team at Town and Country Cosmetic Dentistry and Implant Center. If you need a dental cleaning, crowns, or braces, we have you covered. We love serving our community with state-of-the-art technology, the latest dental services, and personalized care.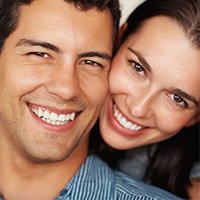 COSMETIC &
RESTORATIVE DENTISTRY |
If you have weak or missing teeth, you can turn to a restorative dentist. We would love to help you improve your oral health with beautiful dental crowns and bridges. In order to meet our patients' unique needs, we also offer teeth whitening, veneers, bonding, and more.
You can trust Dr. Buchheit with your dental needs. If you want a stunning smile that is bright, white, and straight, schedule an appointment with our cosmetic dentist.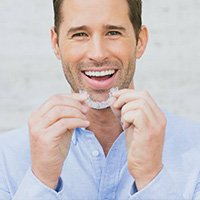 INVISALIGN BRACES |
Your qualified Invisalign dentist, Dr. Buchheit, and our team at Town and Country Cosmetic Dentistry and Implant Center are ready to serve you with this popular form of orthodontia. You'll love the appearance and comfort of Invisalign clear braces.
These clear aligners won't irritate your gums or lips like traditional metal braces do. They will keep you looking fresh and flawless while you attain the smile of your dreams. Come find out if you qualify for Invisalign by scheduling a consultation with Dr. Buchheit today.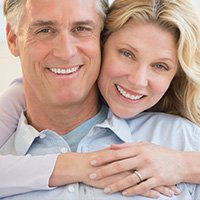 DENTAL IMPLANTS |
Dental implants can permanently enhance the quality of your life. These replacement teeth will make it easier for you to chew, speak, and smile. You can feel confident in the natural and attractive appearance of your dental implants from Town and Country Cosmetic Dentistry and Implant Center.
With a full and complete smile, you may find yourself feeling more outgoing and happy. While implants can make your life easier, they can also protect your health. Our dental implants can preserve your jawbone and prevent deterioration, to keep your youthful smile.
Here at Town and Country Cosmetic Dentistry and Implant Center, we are excited to be able to offer an extended range of dental services, including treatments such as: CEREC crowns, and emergency dentistry. We believe you should be excited about visiting the dentist!
Visit a dentist Manchester MO trusts if you want to transform your smile, enjoy better health, and increase confidence. Give us a call today to schedule your appointment.