Tooth Replacement Solutions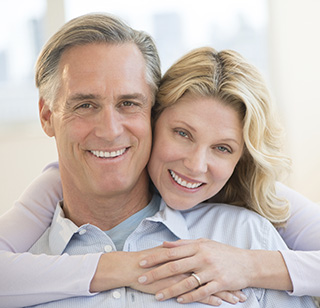 If you are missing teeth, dental implants can be a great way to replicate both the missing roots and teeth, leaving you with a healthy and beautiful smile. In our Chesterfield office we offer dental implant restorations.
What are Dental Implants?
A dental implant (also called an "endosseous implant" or "endosseous fixture") is a surgical procedure that connects a dental prosthetic such as a bridge or denture to the jawbone. Think of dental implants as artificial roots and teeth that are permanently implanted in the patient's mouth. Dental implants are often the best solution for people who have lost a tooth or multiple teeth as a result of periodontal disease, an injury, or some other reason.
Modern dental implants are usually made out of titanium cylinders and calcium phosphate. Titanium dental implants form an intimate bond to the bone of the upper or lower jaw. Bone grows around the tooth implant to make it as secure as your natural teeth. With dental implants, the dentures sit comfortably on the gum tissue and are able to withstand significant natural force and pressure of chewing and biting.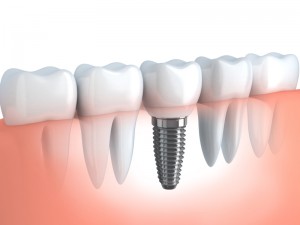 Benefits of Dental Implants
Tooth implants are not only the best, most convenient solution for replacing missing teeth but they also provide a fixed solution for removable dental partials or complete dentures. Dental implants provide excellent stability and support for dental appliances. Even the best denture adhesives can't compare to the stability achieved with implant supported dentures. Those are just a few of the many benefits of dental implants, here are some more…
Improved Appearance – Implant dentistry is a game changer for patients with visibily missing or damaged teeth. Tooth implants look and feel just like natural teeth!
Improved Comfort – Implant supported dentures eliminate the discomfort and inconveience of traditional removable dentures. The titanium implants fuse tightly with your jawbone and become a stable, permanent part of your mouth just like real teeth.
Easier Eating – No more slipping dentures! Trying to chew food with sliding dentures is difficult and embarrassing. Tooth implants function like your own teeth so that you can eat all of your favorite foods again with confidence and no pain.
Improved Self-Esteem – Dental implants will give you back a beautiful smile and the confidence that comes with it. It's easier to smile when you're confident that you look good!
Improved Oral Health – Traditional treatments like tooth supported bridges require grinding down adjoining teeth in the mouth. Implant supported dentures do not require altering nearby teeth so more of your teeth are left intact which improves long-term oral health. Individual tooth implants allow easier access between teeth which also improves oral hygiene.
Improved Speech – Poor fitting dentures often slip within the mouth causing denture wearers to mumble or slur their words. Dental implants are stable and permanent. They won't move. Tooth implants allow you to speak confidently without worrying that they might slip.
Durability – Implant supported dentures are extremely durable and will last many years, even decades. With proper care and maintence, dental implants could even last the rest of your life!
Convenience – Implant supported dentures don't ever have to be removed. No more taking out your dentures before bed every night. And no more messy adhesives to hold them in place. Having dental implants is as carefree and convenient as having natural teeth.
Dental Implant Options
Today's dental implants are virtually indistinguishable from your natural teeth. The structure and design of today's titanium dental implants promote quick healing and long lasting results. Tooth implants are very durable, strong, and stable and will last many years, even decades – here are some of the options available:
Mini Dental Implants
Mini Dental Implants (MDIs) have revolutionized implant dentistry. Traditional full dental implant placement requires surgery and multiple visits to the dentist, but mini dental implants eliminate the need for surgery. We are now able to place anchors using one noninvasive treatment. Mini implants are a beautiful solution for those who are hesitant to have invasive dental surgery since they only require one noninvasive treatment.
Mini implants are also a viable solution for patients with extensive bone loss. Up to four mini implants may be implanted in one session, allowing us more flexibility depending upon the quality and density of the available jawbone. Mini dental implants are most commonly used to stabilize a lower denture but may be placed anywhere in the mouth.
Mini implants are also tend to be much more cost effective than full-sized implants which, while worthwhile, can be expensive to place especially when multiple visits are required.
Single Tooth Replacement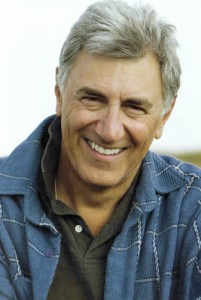 A single dental implant and crown is all that is needed when a patient has only one missing tooth. The dental implant replaces both the natural missing tooth and its root with a single titanium implant and attached ceramic crown. The new dental implant both looks and functions just like your natural tooth.
A single dental implant offers several advantages over other tooth replacement treatments. The other most common treatment for a missing tooth is a tooth supported bridge which requires that neighboring teeth be ground down to support the cemented bridge. A single tooth dental implant replaces the missing tooth without the need to sacrifice the health of adjacent teeth. Dental implants also look and function more like a natural tooth than a tooth supported bridge.
Another advantage of a dental implant is that it better preserves the jaw bone since it replaces the tooth root. With a tooth supported bridge, some of the bone previously surrounding the tooth will resorb and deteriorate over time. Dental implants help keep the jaw bone intact and healthy by integrating with the patient's jawbone.
A single dental implant looks more natural and is easier to keep clean than a tooth supported bridge. Gums often recede around a bridge and leave an obvious defect when the collar or metal base of the bridge are exposed. The cement foundation of the bridge can wash out over time allowing bacteria to access and decay the teeth that anchor the bridge. Deteriorated bone beneath the bridge can also lead to a less attractive smile.
Single tooth replacement implants eliminate all of these problems. They offer a natural appearance and provide a stable solution for a missing tooth.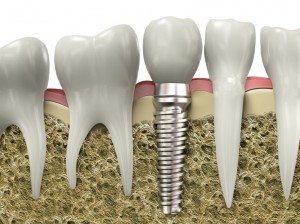 Single implant tooth replacement normally includes four visits to one of our Florissant or Chesterfield, MO offices. Patients are usually able to return to work the day after each step of the tooth replacement procedure has been performed. Before the procedure, we will first examine and take x-rays of the problem area to prepare for the procedure. The implant is installed during the second visit. A temporary tooth is placed at this time that allows you to speak and eat normally almost immediately. The implant will then need a few months to integrate with the jawbone before moving to the next step. The final step is to attach the permanent crown onto the dental implant. No additional treatment should be needed. The new tooth should fit and function just like a natural tooth and regular dental hygiene of brushing and flossing should be maintained.
Multiple Tooth Replacement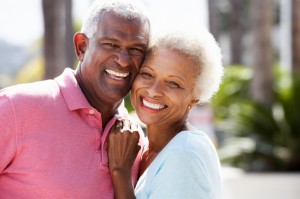 There are several options for patients with multiple missing teeth. Multiple tooth replacement can be done with multiple single tooth implants, implant fixed dental bridges, removable partial dentures, or the more conventional fixed partial denture. Implanted dental bridges or multiple single tooth implants offer the most advantages for the treatment of multiple missing teeth.
Dental implant supported bridges are preferable to traditional partial dentures for many reasons. They look and function like natural teeth and they do not require the support of neighboring teeth. Traditional partial dentures are supported by nearby teeth which must be ground down to support the cemented bridge foundation. Implant supported dental bridges don't necessitate sacrificing the health of neighboring teeth. An implanted dental bridge also keeps the jaw bone healthier because it integrates with the bone and helps keep it healthy and intact. With traditional partial dentures, the bone area that previously surrounded the missing teeth will often deteriorate or resorb over time.
An implant supported dental bridge is also a more aesthetically pleasing, comfortable and functional solution for multiple tooth replacement. Traditional partial dentures leave the empty bone and gum around the missing teeth exposed and vulnerable to deterioration and collapse. Deteriorated gums and bones are unattractive and unhealthy. The cement foundation used in traditional partial dentures can wash away over time which allows bacteria to assault the area and cause decay in the teeth that anchor the bridge. Removable partial dentures can also slip and move which is not only embarrassing but can make eating and speaking difficult.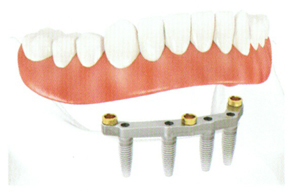 The multiple tooth replacement procedure usually requires up to four visits to one of our Florissant or Chesterfield, MO offices. First we begin with an examination and x-rays of the area of the missing teeth. During your next visit, titanium implants will be placed into the jawbone. Patients will need from two to six months to allow the dental bridge implants and bone to bond together to form anchors. During this time, temporary teeth will be worn over the implant sites. Occasionally a second step of the multiple tooth replacement procedure is needed to uncover the implants and attach extensions. These temporary healing caps will complete the foundation on which the dental bridge and new teeth will be placed. The gums will again need a healing period but this time for only a couple of weeks. Finally adental bridge that has been custom built for the patient's mouth will be attached to the titanium implants. The multiple tooth replacement process is finished!
Full Arch Replacement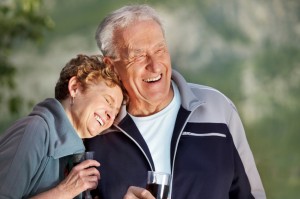 An implanted full arch replacement is often the best solution when all the teeth are missing or in such deteriorated condition that they need to be replaced. Thanks to advances in implant dentures, it is now possible to have a stable, natural looking, permanent smile by replacing your teeth with a full arch replacement using dental implants and a fixed bridge.
Before the invention of dental implants, removable dentures or false teeth were the only treatment for people who lost all of their teeth. False teeth were loosely fitted over the top of the gums to cover missing teeth and held in place with messy adhesive. There are many disadvantages to these types of traditional false teeth. They don't look natural and are prone to embarrassing slipping and movement while eating or speaking. They are uncomfortable and denture movement often causes painful and sore gums. False teeth affect speech, make eating difficult and reduce the sense of taste. Most traditional false teeth users would probably agree that these kinds of dentures cause as many problems as they solve.
Fortunately today dental implants can be used for full arch replacements with amazing success at either of our St. Louis area offices in Florissant and Chesterfield, MO. Implant dentures let you eat, speak, and function just as if they were natural teeth. They restore your smile and preserve your facial appearance by preventing bone loss around the face, jaw, and lips. They also provide a stable, permanent tooth replacement solution for the rest of your life. Dental implants also keep the mouth and jaw bone healthier because the titanium implants replace the empty root areas and keep the jaw bone and gums from collapsing and deteriorating.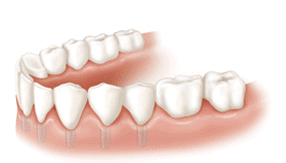 The number of visits required for full arch replacement implant dentures depends upon your specific conditions but usually require four visits to our office. Before the full arch replacement begins, we will examine your mouth and take x-rays to prepare for the dental implants. The number of dental implants necessary for a full arch fixed bridge will vary depending upon your specific anatomy.
During the first step of your implant dentures procedure, your new titanium dental implants will be installed into the jaw bone to replace the roots of the missing teeth. Temporary teeth are attached to enable you to function and eat normally while we wait for your dental implants to heal and fuse to the jaw bone. This typically takes several months. After the dental implants have completely healed and permanently fused to the bone, it is time to securely install the permanent fixed bridge on top of the dental implants. A full arch replacement usually takes 2-3 visits to have the fixed bridge completely attached.
After your full arch replacement is complete, your new teeth will be hard to tell from natural teeth – both for others and for you as well! They will look and function just like your natural teeth. You will look and feel better and will be able to enjoy eating all of your favorite foods again. You'll be able to speak and eat with confidence and we guarantee you will love your new smile!
The Dental Implant Procedure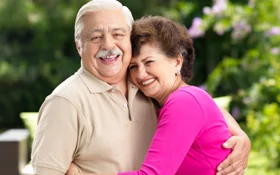 The first step in the teeth implants procedure is to work with us to develop an individualized treatment plan. Dr. Buchheit will consult with you to address your specific needs and determine the best plan of action for your dental implants.
The actual tooth implant procedure requires a number of visits to our office over several months. X-rays and impressions are first taken of your jaw and teeth to determine bone, gum tissue and spacing available for your tooth implant.
During a later visit, your mouth will be numbed and the tooth root implant, which is a small titanium post, will be surgically placed into the bone socket of the missing tooth.
The tooth implant procedure requires a healing period of up to six months to allow the implant to anchor itself into the bone and heal. The bone tissue will need time to build up and firmly anchor to the implant device. Some types of tooth implant procedures will require a second surgery to place the "post" that will hold the artificial tooth in place. Other types of dental implants allow the post and anchor to be placed at the same time.
After several weeks of healing, once the tooth implant has bonded to the jawbone, a small connector post called an abutment is attached to the post to securely host the new teeth. Then your artificial teeth will be custom made and fitted to the post portion of the anchor. We will make impressions of your mouth and create a model of your bite to capture your teeth placement, type, and arrangement. Your new teeth will be based on this model. We will also match the color of the new teeth to your natural teeth. Your replacement teeth, called crowns, will then be attached to the abutment. This step in the tooth implant procedure may take one to two months to complete because several fittings may be required.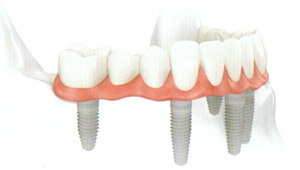 After a final healing period, your artificial teeth will be securely attached to the implants and you will be able to enjoy the excellent stability and comfort of your new dental implant. You will receive care instructions when your tooth implant procedure is complete. Good oral hygiene, eating habits, and regular visits to either of our offices in Florissant or Chesterfield will lengthen the life of your new implant(s).
Most patients experience very little discomfort during the tooth implant procedure. Local anesthesia and sedation are both available during the procedure. Most patients say that their implant procedure was less painful than a standard tooth extraction. After the tooth implant procedure, mild gum soreness may occur and can be treated with over-the-counter pain medications such as Ibuprofen or Tylenol.
All-on-4 Dental Implants
Another implant dentistry option is dentures that are supported by dental implants. These tooth implants work to anchor your new dentures, so that they stay in place in a way that traditional dentures do not.
One of the best implant denture options is the All-on-4 procedure, which allows you to walk away with new teeth in a single day. All of your replacement teeth will be anchored to your mouth by just four dental implants. With this advanced procedure, you can have your complete smile back in as little as a day.
The All-on-4 Dental Implant Procedure
Our "All On 4" Teeth in a Day treatment provides same day dentures to patients with tooth loss in the St Louis area, from Florissant to Chesterfield. All On 4 is a highly successful permanent denture procedure which consists of placing four implants in the mouth in locations where the jawbone density is the highest. These four dental implants can support up to 14 teeth and are placed immediately on the day of surgery. All On 4 same day dentures are faster and easier than traditional dental implants, saving patients money, time, and discomfort and they have an extremely high success rate.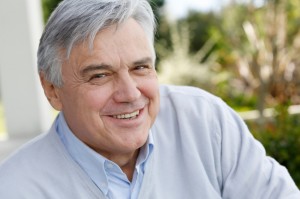 All on 4 implant dentures are often the best treatment for patients with significant tooth decay or tooth loss. It is also a great solution for patients whose bone loss in the jaw area prevents them from getting traditional dental implants. Tooth loss is often accompanied by jaw bone depletion which may create a need for jaw bone reconstruction. This sometimes requires bone transplants from other areas of the body which can be a costly and time consuming procedure involving rehabilitation time of up to a year.
The All On 4 same day dentures addresses these drawbacks because it creates a fully customized denture bridge connected to only four titanium implants. The titanium implants act as a stable foundation for the bridge that supports the prosthetic teeth. This process is able to take the utmost advantage of the existing bone, even if bone loss is extreme, and allows patients to avoid having to use bone grafts.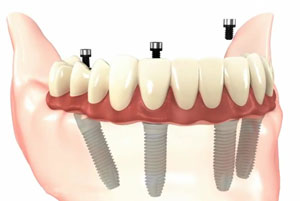 All On 4 dental implants dentures are a permanent set of teeth that look and feel like your natural teeth. They can be cleaned, flossed and brushed like natural teeth. They don't have to be removed and don't require gooey adhesives. They are comfortable because they don't press down on your gums and allow you to bite with up to 70% more increased force than traditional removable dentures. You'll be able to eat all of your favorite foods again. All On 4 same day dentures allow you to experience the hot and cold of your food as well and all the wonderful tastes! They also restore your facial features and prevent bone deterioration.
Schedule Your Dental Implants Consultation in Chesterfield
When you choose implant dentistry at Town and Country Cosmetic Dentistry and Implant Center, you can see your beautiful, full smile restored! Want more information about dental implants and implant supported dentures? Looking to schedule a consultation? Simply call, text, or email us today!
You May Also Be Interested In